Hello, bookish folks! Funny facts: days and days of "I'm gonna schedule all the posts" and yet here I'm, still in need to write all next week post. And this one… even if obviously you will read the final result.
Well, today I'm surely gonna get my time to schedule a lot, since yesterday I hadn't such a great day. Thanks to my mother. And since In don't want to turn this one into "my mother trying to kill my soul – the  therapy" let's go on with the discussion.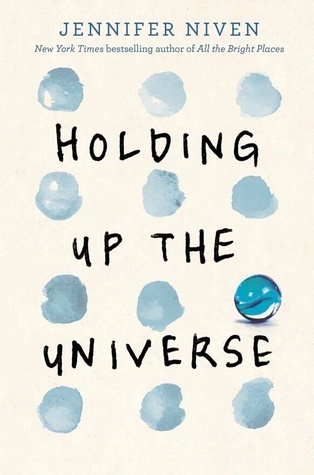 Title: Holding Up the Universe
Author: Jennifer Niven
Publisher: A. Knopf Bookss
Pages: 391
Rating: ★★★★
Everyone thinks they know Libby Strout, the girl once dubbed "America's Fattest Teen." But no one's taken the time to look past her weight to get to know who she really is. Following her mom's death, she's been picking up the pieces in the privacy of her home, dealing with her heartbroken father and her own grief. Now, Libby's ready: for high school, for new friends, for love, and for every possibility life has to offer. In that moment, I know the part I want to play here at MVB High. I want to be the girl who can do anything.
Everyone thinks they know Jack Masselin, too. Yes, he's got swagger, but he's also mastered the impossible art of giving people what they want, of fitting in. What no one knows is that Jack has a newly acquired secret: he can't recognize faces. Even his own brothers are strangers to him. He's the guy who can re-engineer and rebuild anything, but he can't understand what's going on with the inner workings of his brain. So he tells himself to play it cool: Be charming. Be hilarious. Don't get too close to anyone.
Until he meets Libby. When the two get tangled up in a cruel high school game—which lands them in group counseling and community service—Libby and Jack are both pissed, and then surprised. Because the more time they spend together, the less alone they feel. Because sometimes when you meet someone, it changes the world, theirs and yours.
Before digging inside the story and my view on it, I need to be clear: I never read the offensive blurb that concerned this novel at its start. So I don't really know what it could be talk about or how it was written.
Well, this book hit me hard in a good way, while I was really… offended by some reviews. Even of popular reviewers on Goodreads. Even of other bloggers I follow. Also because there's a difference between doing a critique and nearly entering a fatphobic argument. Or not being able to discern how much certain aspect impact a person's life. Yes, I'm a bit salty. Mostly because this novel touch body issue, how people treat other people for their physical appearance. While people aren't only shaped by their body image and what can revolve around it, sure it plays a part on who they are.  The way they related to their own body, issue, problems and benefits is still something that can influence a certain way to act.
Like, I don't share the same time of fat that Libby has. I'm overweight, that's for sure. People never let me forget that, like it was something bad, something which the main function was being mocked for others' fun. And while I try to come to term with me, I have people always telling how "no, you're not fat". But I'm. I know my body. I know its shape.
This reality made and makes act in different ways. Not always, but sometimes it does. So, yes, is a big part of my life.  So it was important for me to read even that much about bodies.  Continue reading →