Happy start of 2020, dear fellow bookworms! I'm back from hiatus and with many purposes for this new year.
As you saw, if you followed me during 2019, my year was a non-stop of ups and down. To the point that during the whole month of December I decided to took a definitive hiatus and so my time to present myself with a brand-new month schedule.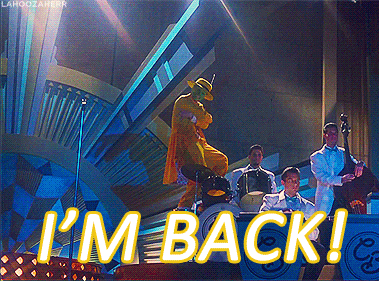 BUT NOT WITH THE SAME ENERGY
As much as I wish too, I can't fully promise I'll be back in perfect shape. In fact, this post was finished in the last day of 2019. Yes. My month has a schedule but is not scheduled. Hopefully, my burn out is in its last days.
I would love to keep talking about the blog and my complete inability to keep up, but let's use the interesting part for the actual post, instead of the introduction.
Anyway, I sincerely hope that this new year will be, if not a lot, slightly different.
WHAT HAPPENED IN 2019?
Well, I think it's worth stating what went wrong to move onto more positive angles. 2019 started as "the revolution year", just to be clear since day one how it was going to be the slump year. Also, the year of loss, since my older cat died.
It was also the burnout year, because everything I deemed as important regarding my virtual life, aka blogging, reading, interacting… went astray. A total disaster. Even my work on the academy lacked of quality, to the point that I've still to fully prepare all the exam I've to present ready by the last days of January!
So, what actually went well in 2019?
I did my first runway at the Altaroma event, creating trousers, a dress and a jacket that made their debut on a special event. My academy collaborated with the Indonesia embassy, celebrating with a fashion show the anniversary of Indonesia and Italy diplomatic relationship.
So… it was a big work that took months and I'm not even 100% happy with it, because my professors put too much of them in the outfit, leaving really few of my vision in it. Anyway. I arrived at the end of the runway amazingly calm… while all my classmate cried and stuff 😂
P.s. Altaroma is kind of a fashion week, but more focused onto Rome young creators, schools, academies and so on.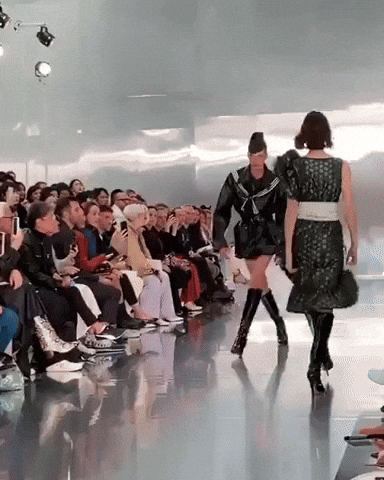 AN ACTUAL IMAGE OF ME WALKING OUT OF THE RUNWAY LOCATION BECAUSE I WAS SO DONE IN THE END
I finally decently met a classmate and now I can say I've a new friend. I'm still not amazing at keeping up with everything and everyone, still missing my dream friend, but I think me and the new friend will have a road ahead.
I figured firmly my romantic orientation, aka I'm aromantic, but also set myself on the desire of having a queerplatonic relationship. I mean, I'm not 100% sure about actually having the strength to start a relationship, but also… I dont want to close my doors about that?
THIS IS HOW I'LL HAVE TO FIND A QUEERPLATONIC GIRLFRIEND WHO IS LIKE ME IN ITALY
I reached 648 followers on my blog! If I remember correctly, my goal was to strike 500 followers but I went much over the number I was planning to reach. I'm not sure what my base start was last January, but sure I got a great result anyway.
Opened Ko-fi! It was one of my goal for the year. I've always been afraid of opening one, because I didn't feel like I did enough to deserve a donation. Like, was I offering a decent post? In the end, I opened the account anyway. Yes, I didn't get any donation so far, but the account is there and I'm sure one day I'll manage to put it to use.
I put on old my major WIP work and started to dedicate myself to OUAL! My new writing project is sure in need to be improved and require some other research, but changing to something new was something I needed.
2019 GOALS
I won't lie to you all. I made a list and said list is much longer then what it should be. Like… who assure to me I won't fall back into some slumping habit? No one, aside from me.
In the past, I tried many things. Not writing a list, because I was sure that I could plan my time without written words. Then writing it down, because method one wasn't working. And then repeat ad infinitum.
I do plan to write down all my goals in different papers, all divided by topic of the goals. I want to remind myself that I need to let this year be full, even if mostly focused on myself. Knowing that I can do things, even little ones, it's great and it should feel so.
Another reason why I'll definitely try a schedule of my day.
Last years I did the mistake to put hours and objectives that weren't possible how I wanted, ending up stressing and dropping the most important things out, because "there's no time now, relax, you will do it later". But then I won't.
PERSONAL LIFE GOALS
EVERYDAY LIFE
Picking up languages again! Not with a professional course, but with the help of good old Duolingo I'll try to improve again my Spanish and my French. I already started with Spanish but I don't always keep up the strike of an entire week.
Trying to lose weight. It's not on my top priority and I will never be like those that will renounce to a piece of sweet if they are out, because the heavens forbid them to gain a minuscule amount of weight because their fatphobia is stronger. I may start to use an app to keep track of what I eat and how much, because I really want to regulate the quality of my food. Many of my clothes don't fit as before, one of my everyday rings does too and I'm not fond of my double chin, because I can't see it as part of my face. I just don't like it.
On the same page of body related things, I really want to take more pictures of me. Not selfies, but even full body shots and such. I want to have very nice pictures of me. Too bad that I've the biggest problem with people using my camera because they never take the shot as I would. Maybe they cut a part I would have included, or the angle is not how I would have posed and so on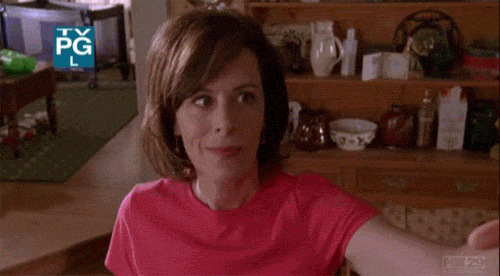 THIS IS ME TAKING SELFIES. LIKE, FOR REAL.
Dying my hair in two shades of purple or grey/silver and black. Also getting a new tattoo.
Delete useless social media. In this case… Facebook. I don't use anymore and the only thing that stopped me from leaving were friend memories. Maybe I can delete my old profile and open a new one? I need to think about it.
Being straighter forward towards people, when I feel like it's worth to pick up the battle. Select people more, don't feel strange friendship (often imaginary) debts towards them, but also be more present with the people I chose to keep in my life. This also imply not wasting social occasions, or not turning down an invite just because I feel the slightly annoyance at the idea of going out.
Re-design my room! My room is in urgent need of a carpet (which I may have already found), frames for the many art print I want to put on the walls, and plants. I've exposed wood beams in my room. Once I used to put paper lanterns on them, but now I want to add some floating vases and give a green touch to the place where I live the most.
ALL THE PLANTS
ADULTING TIME
Finish my exams in time and submit my request for the thesis in February. It's not even a goal that can be postponed, because I must. And this imply also to get my academic degree
Find a job? Thanks to my family situation, not having a job isn't the biggest issue, but I really want to get one, or to find a way to make some money to use partly for myself and partly to keep safe. Plus, I want to add some experience to my curriculum, that is mostly focused on study and not… you know, experience.
Car license! For completing my functional list of being a functional adult (yes, double functional) I really need to get a car license. I always entered a pure chaos mode the day of the exam, fucking up in the worst ways. Now I'm more confident about my ability to drive and remain calmer.
AM I GETTING SPIRITUAL?
At the moment, because of where I live, I can't fully devote myself, purchase altars and stuff, but I'm growing near the wiccan path and so to the witchcraft one. Yes, I'm aware about the difference and how people can or cannot considered them bonded and so on, but I'm still at the start and I'm trying to understand how to move, what suits me more, how and if I want to initiate myself… all reasons why I want to start my own grimoire in which I can keep all the important notions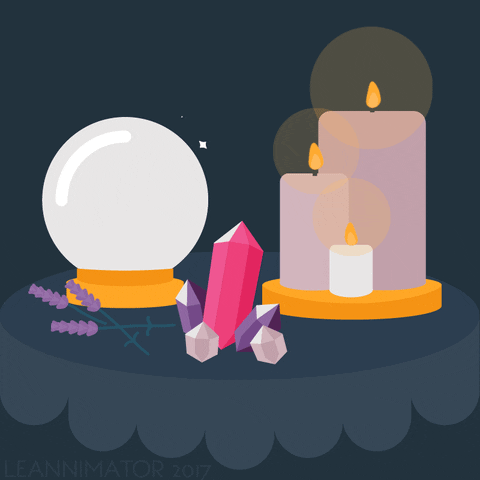 NO PROFOUND MEANING, JUST A VERY CUTE GIF FOR THE OCCASION
On the same page, I want to start learning how to read tarots! I already tried in the past but I wasn't being serious about. Now that I've a deck with both major and minor arcanas, I've no excuses.
BLOGGER & WRITER
Let's start with a base: have a decent presence online. Interact with people more, retweet what they do, turning back being active on bookstagram (but not posting every day). I really need to increment my "blogging game". I've been blogging since…four years? And I didn't archive a lot of things. So, time to work for it. This will include of course some threads on Twitter!
Reasons why I'm striking for 1K follower on the blog by the end of 2020. Or at least to reach the 800. And maybe… maybe even try to go self-hosted.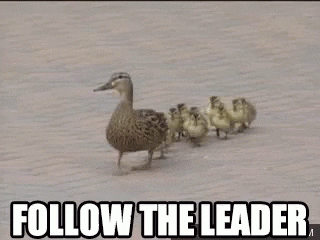 AKA ME. OR JUST DON'T
Respect my schedule! Which I'm low key already failing, but this year I don't want to realize that I've still to write the post for tomorrow and die under the single pressure of the idea.
Read 100 books. Maybe even more. I don't dare to set it at 200, no way I'll do that. But the Goodreads challenge is on (and it's green, folks!) and I've already set it. To be honest, I cannot wait to announce my monthly tbr and… fight it? I don't know, I just feel kind of bumped up for this new year.
Finish my research and outline + draft OUAL! This is very important. I would really like to be ready for NaNo and take part to it this year, properly. Not sure I can keep that promise, but at least I want to put the word "end" to OUAL research and establish a more cohesive plot
Surprise of the surprise… learn to use Twitch. The account is already set, few other things too. Now I need to don't collapse in flame while crying because I don't fully understand how it works. It will be my first experience sharing a streaming with my voice, no face for the moment, trying to speak English and entertaining people while I try to don't lose myself into the plot and feel completely silence.
If you wish to support me, my blog and the work behind it, during this 2020, you can buy me a coffee. Every coffee you send me, will be protected and saved for the self hosting project. Thank you for your support!
DO YOU HAVE 2020 GOALS? SOMETHING IN COMMON? HOW MANY BOOKS DO YOU PLAN TO READ? WHAT DID YOU ARCHIVE LAST YEAR AND ARE VERY PROUD OF?