Hello, dear readers and writers! How has been your week?
I'm late on my scheduling and read failing goals as usual, and I'm passing this day just sewing because next Friday I need to deliver a bunch of sewing blueprints.
Trust me, is not nice. But today I'll be here with a fun post for you all. Remember that you can read the first post of introduction on my blog, right here.
MY PROGRESS WITH RESEARCHES
I didn't read much but I started the sixth volume of the old collection Mythology of All Races. The current  volume I'm reading is about India and Iran, but I'm interested only in the first part.
I found the title thanks to Archive.org. It's a very useful site where you can find academic text. There are always multiple copies and can be downloaded in more format. I had to send the ebook copy to the Kindle and the structure is a bit… messy. But I can still understand.
It takes a lot for granted in the way that the author supposed the reader already had a little knowledge of the mythology. Despite that, I found interesting informations about the older version of the modern gods, and this gave some names on which I would like to work on.
The religion of the nation I'm creating had already a base, linked to spirit of the world and the conception of a unique and bonded word, but now I'm starting to see more entities and how they could work inside this nation system.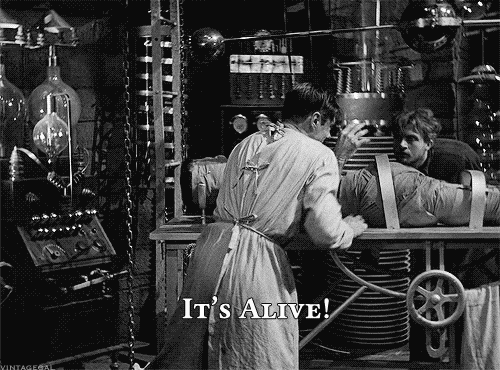 ME EVERYTIME THE SMALLER CRAP OF WORLD BUILDING MAKE SENSE ALONG WITH THE REST
With the other book, about Hindu's manners, I'm advancing but I started to skip chapters of material I'll never use, because none of these things are going to be included in the novel, and are not part of what I want to represent, neither what I'm searching for. Also, this book was found by chance in an old shop and it's quite messy with a good bunch of colonialism and racism in it. Maybe some things the author wrote are true, but when he gets critique about the culture, instead of just reporting what he witnessed, I start to dissect everything.
I've decided to finish it because it's an updated version, with all the notes, done by a professor, about what the author got wrong and such. It's also a book with entire last sections about way of dressing and such, so I'm waiting to see if I can find something interesting to confront with more actual and modern text.
But now, let me talk about what I found in my recent reads from the Mythology of All Races volume. There's a great emphasis on the sun and the fire. While in another book I read, a great importance was focused on water and sacred rivers, this volume is not talking about those. At least not now.
A great deal of pages was about the moon too, but didn't get the same space of the sun. It also talked about the role of gods that moved the sun and the moon, making great resemblance to roman and greek myths. There were made some analogies with the circle of life, and how some gods do the same as the sun carrier, moving life.
There were also some talk about demons, how their figure at the start didn't hold the same demonic and bad connotation that we may read about on out modern text. Same thing for spirits, that looks like in the past had a much more prominent position, to the point that people performed sacrifice with meat and blood.
What I found very interesting was inside the chapter dedicate to the gods of death. There was a small talk about the act of burning the dead and how such burning could mean various things in religious terms. For example, one was about how the flame  could symbolize the god of the death realm eating the body as a gift. The part about the soul wasn't exactly clear, but some details reminded me of a previous text I read, written by Coomaraswamy about the path of the soul after the death.
Another things was repeated more and more and it's the first time I found it in a text. In this case I'm talking about the soma. In the book is not exactly well described, but from internet first sources, it's described as ritual drink. There's a debate about its origin: from a plant and, if yes, from which one.
My text implies that this drink is strongly related to immortality. I'm pretty sure that there were also theories about how some ancient gods where humans who drank the soma. The speculations went on and comparison between ambrosia and soma started to be highlighted. Despite the great deal of the soma, I'm not sure I want to take any form of inspiration from it. I will see if I can find more about it in my research.
THE SECOND THREE CHARACTERS
It's time to introduce other three characters of my novel. This time we go with the angst team, as I would totally call them 😂 Also, in this list there are some non human characters. So yes, you will  get a "snippet" of them… if the novel will actually have a future.
O. For a long time this tormented boy ™ was one of the few people inside the powerless category, aka no magic for him. But recently I had a really good idea that will 1)accommodate my new plot ideas 2) revolution things a bit 3)made his history more interesting.  Still, I won't make his new power bonded to him. Actually he's never been a mage type. I still don't know if with him I'll write about PTSD. I still need to do research on that part and see how I can write it, if I feel like I'm doing a decent work or not. So, yeah, do not take my words as 100% pure and sure facts. MY first idea of him was of a tormented knight and with time take a much darker turn
A. She's my best friend favorite character, but probably my less diverse one. I really like how she came out, so her story and back story remained the same. She's probably the one that changed less. To be honest, I don't have that much to say, just that she's not a patience type, that likes to work alone and get frustrated by man easily (relatable, in my opinion). Also unresolved issue, stress, difficult to trust people, keeping things for herself, a complicated sentimental life… yeah, she's totally into the angst club. Oh, I was forgetting about her up and down relationship with her nature.
V. Okay, V doesn't really fall into the angst club. She's probably my most positive character. A balanced person, believer of justice, diplomacy, open to empathy and great supporter of humanity.  But she takes no shit. Her first character draft really had a bad storylines and thanks to research on tropes I realized that I was doing a bad job with her. So, I took other decision and I'm quite happy on how her storyline got bigger and how she grew. Just recently I was working more on her and her powers, and I took other decisions that made me really happy. She's gonna be a much more prominent and important figure in the novel. I cannot wait to write her again.
For this time, that's it. I hope next week, with the final meet with the NaNoWriMo post, I will share with you more information and other three characters, completing the cycle of all the characters from the first novel of my WIP.
If you want to ask any question, you're always welcome 🙂 If I get enough of them I can create a post on its own.
HOW IS YOU NANOWRIMO DOING? WHAT ARE YOU RESEARCHING OR WRITING? DID YOU FIND INTERESTING SOME OF THE INFO I FOUND?