It feel like I posted a tag ages ago and might be the truth. Anyway, I finally decide to go trough all my pingbacks and finally found the link in which I was tagged month ago. To be honest: BLOGGER GOAL!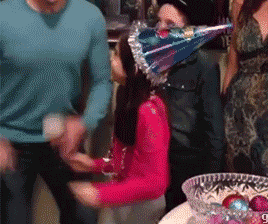 ME AFTER REACHING ANOTHER GOAL AND TOO MUCH BLOGGING
It's not really a super long tag but is also perfect for this period, thanks to the tagger choice ❤ Also, get the occasion for visiting their blog. Caro @The Book Cheshire Cat is one of my favorite, even if I don't visit it enough as I should
THE RULES
Create your own listicle tag using the prompt choose by the person that tagged you
Tag the creator of the tag and so a great thanks to Not-so-modern-girl
Nominate as many as you want
Set your listicle prompt for them
Oh no, it's the Zombie Apocalypse! Which five characters would you want on your team to help you survive as long as possible?
Ronan seems a good option. But not as a Greywaren. He should be there for the badass factor. And having an actual chainsaw called Chainsaw. Unless the bird is magical too and not just a bird from a dream. I would probably kill him after a bit because I cannot stand people who are never nice. And he's never nice.
I think he would have the perfect role of main fighter or frontman with a baseball bat or the chainsaw, in fact. But I've no other good to make him part of the team.
Even if, on a second thought, his ability may be useful to create weapons and way to fight the zombies.
Elias is my second option for the fighter section. The team totally need a more gentle and at least mildly educated fighter to balance the mood.
And a competent one. Also, if he could retain some power from his… last condition, he would also be a great against zombie. Like, he would be death proof and I can't say more because spoilers.
But I guess that can also work as someone who wants to keep the group united.
The Vagrant would be a must that is not a must. Because let's be honest, I trust him but I remember very well that moment in which he fainted at the sight of blood. So… the main reason I picked him is because of the love I have. Second is that he's a really good person, even if sometimes  I disagree with what he does.
Anyway, he's someone who walked through lands infested by demons and monsters of every type, in a really hostile environment, with only a sword with a bad temper, making a goat and baby survive during a really extreme travel.
He would be perfect for taking care of everyone in the team.
Mya is the perfect ranger and scavenger for supplies. She's a prehistoric hunter and she knows how to moves in dangerous settings, when even the nature is against you.
She's not really the most talkative person ever but she's quick to take decision, loyal to the person she loves and despite the mess she might fall into, she tries to make things right or have the best outcome.
Oh, yes, she's also ready to task risks. Daring might be necessary when it comes to supplies.
Adonai for the medic side! I don't know many doctors  in book, but for sure the group will need one that know few things.
Okay, Adonai is not even exactly a doctor. I think he's a medium knowledge of human body but like with every magic power, half of his work is done by magic. Yet, there's still the need of someone who can save a life.
At first  I thought about Audrey Rose but… she's not surviving material, let's be honest.
Taking inspiration from the upcoming film and the book I read, you're like in the Bird Box. The world is suddenly taken over by mysterious and invisible creatures. Some people see them and madness take over them, making them kill themself or hurt people. You're now surviving in this word, your eyes covered with a piece of fabric. Who is your survival team?
For this tag I'm gonna nominate some new people between my followers plus a pair of person that commented recently on my post 🙂
HOW WOULD YOU HAVE CREATED YOUR TEAM? DO YOU THINK MY TEAM ACTUALLY HAVE CHANCES OF SURVIVING? DO YOU LIKE MY PROMPT?