Hello, my dear book blogger! Halloween still have to come but Blogoween is already here!
Today is the first day in which I took my hosting Blogoween duties, meaning that from one and the next two days, you can take inspiration with the prompts I created for these days.
So, let the Blogoween magic take over more used and unoriginal phrase ever.  And let me get wobbly and fragile while describing this, because in reality I'm a softy. So, if you're a bit sensible, please skip this post.
This is the first and probably last time I write in this way. It's too strange, or at least something I tend to use more in my WIPs. The style and mode are different from the blog's one, for sure. Anyway, I wanted to add at least three sweet and/or a drink, but I decided to stick to two. It's a bit of a strange time, and this is the new post after my hiatus. I still feel not exactly hyper functional after the exams and I prefer to stick to quality are those even quality sweets  instead of focusing on quantity.
Official reminder of today theme:
Gory Magical Sweet || Create one or more snacks (sweet or savoury) and a drink (if you want), all must be Halloween themed. Should be created with a mix of common food elements and parts of our beloved mythical and magical creatures. Just to be clear: things like rainbow unicorn sparkles aren't gory. Get morbid.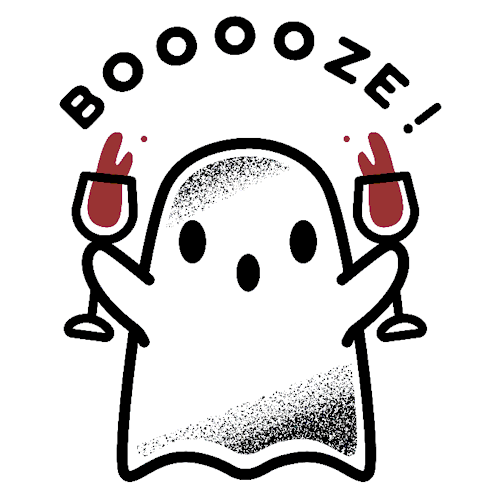 BUT LOOK AT THIS CUTE GHOST THAT INVITE US TO CELEBRATE BLOGOWEEN WITH BOOZE. CUTE, I SAID
OF SPRINKLES AND SPARKLING. RED AND BONEY ONES, I MEAN
Look, a nice cupcake, a giant one. A delicate paper, shining as black satin, circle the sponge.
The sponge is white, delicate, maybe too much. White as dead body can be, white as something dusty. Could be sand, could be like some kind of earth's product.
The white is stained, the sponge absorbing the slick and dense dark red material. It descends from above, swirling in between the curves of the  holographic icing.
There's something unreal and immaterial in that one. Under one light it shines like a pale moon. Under another it's opaque like the morning fog. Or the breath of a ghost against a glass. Something is inside it. Looks solid and of ivory's shades.
It will crunch under your teeth, broking like a little porous rock. But that's not all. Sparkles of a sick yellow mix with the red liquid. Crimson and deep pink fibers fall around in a chaotic decoration, the interior of something rigid that has been broken and destroyed in scales.
A round ball, humid and pearl shade, reign over the icing. The red liquid pumps out of it, slipping out from broken capillaries and a wounded pupil. A white and glacial iris is fixed towards the void. It watches the nothing, the original owner souls already in the realm of Death.
You taste a bit of it. Not bad. Yes, unicorns are not that bad.
ARE THOSE SCALES? OH, WELL LOOKS LIKE SUGAR ART
It's round and shiny. And it boils. You can see, under the dust and nails made of sugar. Yes, those looks really like shiny nails, painted in bronze and black, some peaks of gold. Your finger brushes the surface.
It draws blood. You recoil but the cut is done. You want to scream or express your pain – it burns –  but you don't. Something is not right. You dare again, fingertips touching the nails. Moving carefully, you pull it towards you. It doesn't move but a wet sound reach your hears.
A trail of red descend trough the nails, dripping on the white plate where the cake is resting.
Your finger keeps burning, no longer just the pain of your skin cut open, even if just a little. It's like touching fire. No matter how much Death reclaimed the creature that was one whole, its soul remains.
You're getting blisters but no one is here to help, especially not the owner of that absurd bakery. You wrap your sane fingers around the bleeding one. Can't help the pain but makes you feel like in control, ready to stop everything and regain your calm. It's just a cut.
A cut that is spreading fire. You don't want to watch and instead you take a knife. Seeing what lies inside the cake may give you the solutions to the problem. Maybe it's a poison. Would make sense.
Blade and nails meet with a metallic sound, not high neither low, screeching inside your hears. It end with a clunch. The blade is stuck and you move with a grunt, raising it up. What comes out is not what you wanted to see, as black veins pump out fused with the blade.
 You let it fall down, trying to get it free, and that's when you hit it. The heart. You cut it the middle and the cake opens wide, its core destroyed. It sprays like a fountain, red and hot, inside your eyes, your mouth, against your face.
Everything fall down. Or is just you. You're too much confused, your hand grasping at your face. Vomit circling your tongue. The cake fell with you, rolling somewhere to release smoke and blood flavours. Something else fall down too. Something that is part of you. Yet, you don't watch. You don't want to.
Dragons can eat your face even when they're dead.
DID YOU ENJOYED THIS TYPE OF POSTS? SHOULD I TRY TO DO SOMETHING LIKE THIS MORE OR NOT? WOULD YOU DARE TO EAT THE SWEET I CREATED? A GORY MAGICAL TASTE THAT YOU'RE BRAVE ENOUGH TO TRY?