I was planning to write this post since… a lot.  Okay, not so much, but has been quite a lot since I wrote something about writing and so it's time to do it.
I will try my best with this one to explain calmly and in a clear way how do usually my mind work for my characters and see if this process make sense in some way.
Anyway, I've few other writing related topics to post in the future, but I'm also open suggestions. You can leave one in the comment.
I think that the best way to start the discussion is how my characters' creation need to be divided in two possible way:
one for my current WIP
another for my future projects
I will start with the latter, because is far more simple. I've too many plot bunnies, listed all in their own section. Some have a title and a basic plot concept, plus a long or little list of characters, aspect and name included.
Usually, I start with the plot itself or the concept of a plot. Something like: a world inspired be *insert nation, story, legend, something else* in which happens *insert competition, apocalypse, fight and such*. Then I start to elaborate the characters.
EVERYTIME I DO A PLOT BUNNY SECTION AND STILL ZERO ACTUAL WORK
This kind of elaboration starts thanks to images. With my current WIP I used different way that I'm gonna explain later, but in those many cases art is my major source of inspiration for my character appearance.
The point is that I don't go around Pinterest for finding the perfect character's face, but I usually go for Artstation or the many designs done my Otome games (I'm obsessed with the artists, not the game itself. I found those by chances). Or any form of concept art in a style that inspire me or that I love.
There are rare cases in which I usually see a character art and I save it in my WIPs' sections. Sometimes the random character design strikes me enough to insert this figure in an already listed project and I work around this figure. Like: what role can they have? Their section? Their faction?
Because yes, another way in which I order my characters is to organize them into factions. But the other questions that you probably all have is: wait, are you saying that you steal that character appearance and everything else?
NO, THAT'S NOT MY ANSWER. JUST ME THAT I FOUND AN ARTIST TO LOVE
No, actually I don't. My choices go around the design. Let's use for example a girl with a certain outfits. I start from the things she wears, thinking the role she could fit, if such role may or may not be okay with a possible future or past in the story. In the future, when I'm going to actually touch the project, I'm going to redesign her outfits (from deleting to taking inspiration from it), maybe re-shape a bit her role, try to do an actual character board. At that point I search for a face that may resemble the character art, if I'm deeply in love with that. Yet, if I found another face and the I suddenly think "Wait, this features made me think of them much more", I will change.
From now on its time to study more of my character. Their role can be or not be a stereotype? Or is there a way to work around it? How are their people? Sexual orientation? Do they have a disability? But all of those steps come after the basic concept (the character image's draft), and the character appearance may get some shifts according to their finale image.
Yet, it happened that I saw something (like a story or a game with magic classes) and I tought about characters' name and gave them some magic like definitions, similar to a title. But their appearance is still to be written down. I'm probably going to work with those directly with a board, but again I will follow my inspirations.
When it comes to the characters of my WIP, things get a bit different. First of all, my WIP is a project that has been written the first time when I was 13. Then got at least two other "re-write it from the start". And a fourth time in which I thought that it was the final one. But as soon as I entered the world of book twitter and educated me more, I noticed how many things were not right.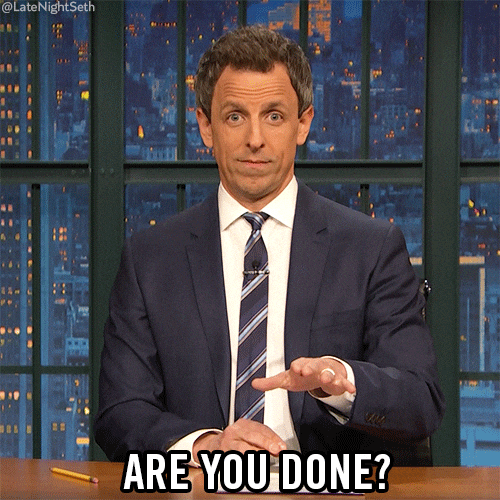 MY WIP AFTER SEEING ME WRITING THE SUPPOSED REAL END
After a bit of time, some beta reading and such, I decided to stop and re-start my research and: best choice ever. For sure it's helping me a lot about figuring out my worldbuilding but also the character's identity. I realized that trying to write a first draft and then doing research (some fellow writers suggested that in their post) is not for me. I don't feel okay when I write and I need to set immediately on the page some point, or touches and details, because I noticed how I can easily skip something during my edit processes. Reasons why I always do three or more edits processes.
For my WIP's characters, I never searched for art images, but I let my own hands write them. Yet, it happened that while I was doing some of their boards, I realized how some were lacking of enough concept and backgrounds. So, I also deleted many of them and felt quite free about that.
So, I started with an image written by me. I don't know how to explain it better but I simply let their features take place inside the novel while I'm presenting them. A figure starts to take place inside my head. I see them talking, the way they move their head and hands, taking steps…. everything comes together in one place, not so fast but not slowly too.
After that, I sit down and explore their concept. Who they are, possible family, their magic, their past history… and also exploring if those can be part of a stereotype or there is a way to change things. This include that fact that their whole idea could actually be quite sh*tty.
Also, I went on trying to get if I was overstepping. Meaning: was I telling their stories instead of some marginalized author or not? Was I staying in my lane without making the character interchangeable with a non marginalized identity? But also, was I writing them as people or stereotype?
This led me to write down every characters' name and list down their identity. Reason why I'm currently working on a long-term research, seeing if my research will led me somewhere or not, if at the end I feel like I can write something and not messing up. Because as much as I research, I think that these questions remains: yes, I've done research, I'm not overstepping but am I doing a good representation? Do I have the skills to do so or not? Do I need to learn more from other writers or I can do something? Despite being written and re-written, this WIP is still my first work and the little bit of confidence I've in my skill sometimes fails me.
ME WHEN QUESTIONS ABOUT MY OWN WORK START TO CIRCLE ME AND I DON'T KNOW IT'S GOING TO BE A VOIDE-EVENT OR WILL LEAD TO SOMETHING USEFUL
That's pretty much all of it. My creation process is not over complicated, but is usually prey of my own self doubt. I have no chill, a thing that makes me happy because it helps me doing research but also not, because sometimes I lack of even the basic trust in myself for writing and creating. Nevertheless, I work on, even if just for me (who know how the future will be?), and try new ways to work on my characters. I was pondering the idea of starting from the concept itself, but I still need to verify how things could work out.
HOW DO YOU CREATE YOU CHARACTERS? DO YOU HAVE A PARTICULAR PROCESSES? DO WE WORK IN A SIMILAR WAY OR A COMPLETE OPPOSITE ONE? DO YOU THINK THERE'S SOMETHING I'M DOING WRONG AND I COULD IMPROVE?