Hello, my der readers! I know, I know. Two reviews in one day. So boring? Or maybe not. Also because reviewing old books is the perfect possibility to discuss series and novel that never chase to make people passionate. Pretty sure that The Raven Cycle is one of them 😉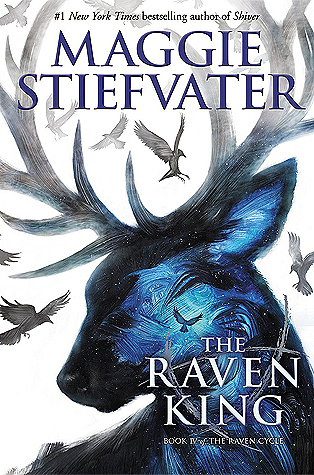 Title: The Raven King
Author: Maggie Stiefvater
Series: The Raven Cycle #4
Publisher: Scholastic Press
Pages: 439
Rating: ★★★★
All her life, Blue has been warned that she will cause her true love's death. She doesn't believe in true love and never thought this would be a problem, but as her life becomes caught up in the strange and sinister world of the Raven Boys, she's not so sure anymore.
This novel left a hole in me… until Stiefvater talked about another trilogy that features as protagonist one of the Raven Boys, and that possibly means that the others are going to be there too. But when I finished The Raven King, I realized: no more guys, no more Blue. Yes, I could re-read the book (and I don't re-read) but they were gone. No more adventures.
But aside for my poor bookish soul, was I happy with this novel? Yes. And no. And I'm pretty sure that I will also love many of the other books written by Stiefvater, as much as I'm going to hate how many questions will be left open. Because that's what she did in the novel. Don't try to fight me on that. She totally did. 
So, reading and writing made me come to this conclusion: you cannot really hate a series just because of the end. It's like forgetting everything that was at the start and in the middle. But surely can give a bittersweet taste. And also the "I wanted it to end like this" is kinda unfair. The book will remain an author's creature. That's all to say that I'm no 100% fine with how  The Raven King put an end to the story but also I'm fine with it?
Funny thing is that the promised Glendower isn't even the focus, but it's about the characters as always. As usual I felt a deep connection with Blue and my heat broke reading how Artemus really didn't put much efforts to reach to her. Yeah, I'm still not over that.
Talking about the general plot, every twist came at the perfect and not perfect moment. I think that this is the mark of the book: being strange. Or being Sitefvater-ish. If you understand what I mean. Also, isn't even easy to talk about the full story without indulge in spoiler, so I will stick to a basic affirmation: sometimes I was totally amazed, other times I was totally confused.
As I wrote before, Stiefvater left a lot of questions. A part of me is almost certain that not even her knows how to end something or give a reason to that something. It was just strange and that's it. While I've a general view, I feel like missing big pieces of a puzzle, even if the whole story is a pure: everything is connected.
The Raven King, as much as the whole series, will always have a place near my heart and mind, but even if I deeply liked it I feel like catching flaws here and here the ruined the general read.
Did you read The Raven KIng? What do you think? Similar impression as mine or not? Are you excited to read another series around the gang?