Hello, readers! Yesterday The Cruel Prince made is debut in the bookstore and I'm a day late with this review… but okay 😂 Yesterday I was too much tired to write down this review and this morning I took my time to translate it from Italian to English.
Anyway, here I'm with this one! Is the first review of the year, so cheer up and party with me (even if review aren't that popular in the blog community)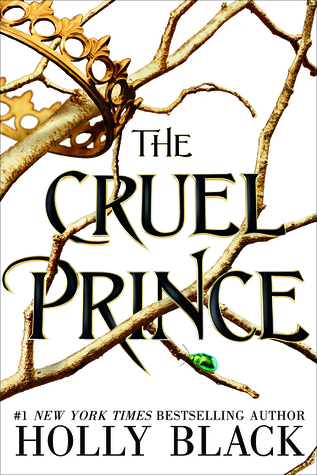 Title: The Cruel Prince
Author: Holly Black
Series: The Folk of the Air #1
Publisher: Little, Brown Books
Pages: 384
Rating: ★★★★★
"Of course I want to be like them. They're beautiful as blades forged in some divine fire. They will live forever.
And Cardan is even more beautiful than the rest. I hate him more than all the others. I hate him so much that sometimes when I look at him, I can hardly breathe."
Jude was seven years old when her parents were murdered and she and her two sisters were stolen away to live in the treacherous High Court of Faerie. Ten years later, Jude wants nothing more than to belong there, despite her mortality. But many of the fey despise humans. Especially Prince Cardan, the youngest and wickedest son of the High King.
To win a place at the Court, she must defy him–and face the consequences.
In doing so, she becomes embroiled in palace intrigues and deceptions, discovering her own capacity for bloodshed. But as civil war threatens to drown the Courts of Faerie in violence, Jude will need to risk her life in a dangerous alliance to save her sisters, and Faerie itself.
The Cruel Prince is the new novel by Holly Black that brings the reader again in the faeries' world. But this time the introduction to this universe happens on the inside, in fact the protagonist Jude lives among the folks.
The whole story is read for Jude's point of view and unravels dark and twisted as always. I've always read Black's novels in my naive language – Italian – but this time, reading the novel in English I felt much more near to this story.
Also, reading again, even for a brief time, of past characters from the other novels was great. I really hope that they're all going to have a major role in the next books. Looking at how the story went, I'm kinda sure that's going to happen.
Another things that I loved is how The Cruel Prince becomes an important story to understand more about the Courts. One things that I always asked myself in past stories was how the Courts worked. Since the Ironside trilogy and The Darkest Part of the Forest , it was clear how the stories happened in the same world, so I had many questions. Like: how the Courts worked with each other? Why they never got into big fights? They rule by their own or there is still some kind of major power? The Cruel Prince had the answers.
Talking about the most important parts of the novel, I loved the plot. It's really political, with twists and intrigues, more focused on important balances of powers that actions full of fights and non stop events. It allowed to understand Jude a lot more and to focus on her, which was great.
In fact, for me, Jude did a lot to the novel. I liked her as much as the whole story. I read how much other reviews focused on how she was such a different young adult heroine, all moral grey and everything that can seem dark. For she was fine. I mean, I would have done the same things and she's far away from being bad or a villain. I don't get all the focus on this, also because while she tries to move in the faery's world, trying to find her way as a human, she still manage to take care of the people she loves and help someone else.
I'm less happy with the other character mostly because I think that they didn't have enough space on the pages. But at the same time it was perfect because the focus on the events could have been lost. Anyway, I don't lie: a three POV book with Taryn and Vivienne would have been interesting. Even if right now the less I see Taryn, the better. And I will say no more because it's pure spoiler.
Little notice on Cardan… I don't care that much about him. It was a typical loser, that plays the part of the bad boy and the poor bully with a sad past. Doesn't buy my sympathy, neither empathy, at all. Which is also fine, since he has not a role that should portray him as a good guy.
Last note in about the romance. I was so glad it was there but at the same time it wasn't and that the whole plot wasn't focused only on that. Definitely I cannot wait for the sequel of The Cruel Prince. I bet that is gonna be more and more dark.
Are you going to read this book? Do you like Holly Black works? What's your opinion? Are you excited for the rest book?