Hello, bookish folks! While you will read this review I should be still in Tuscany. Probably trying to read as much as possible before coming back home. I don't know why but my house make me feel lazy.
Talking about the books, did you read this series? I already read it all but I want to leave you there the reviews 🙂
---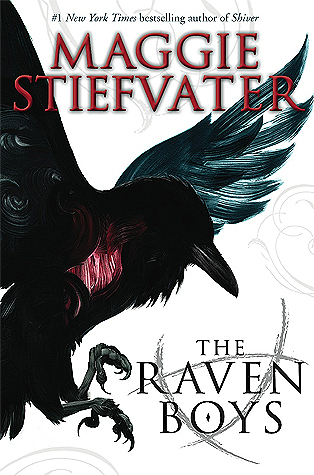 Title: Raven Boys
Author: Maggie Stiefvater
Series: The Raven Cycle
Publisher: Scholastic Press
Pages: 409
Rating: ★★★
"There are only two reasons a non-seer would see a spirit on St. Mark's Eve," Neeve said. "Either you're his true love . . . or you killed him."
It is freezing in the churchyard, even before the dead arrive.
Every year, Blue Sargent stands next to her clairvoyant mother as the soon-to-be dead walk past. Blue herself never sees them—not until this year, when a boy emerges from the dark and speaks directly to her.
His name is Gansey, and Blue soon discovers that he is a rich student at Aglionby, the local private school. Blue has a policy of staying away from Aglionby boys. Known as Raven Boys, they can only mean trouble.
But Blue is drawn to Gansey, in a way she can't entirely explain. He has it all—family money, good looks, devoted friends—but he's looking for much more than that. He is on a quest that has encompassed three other Raven Boys: Adam, the scholarship student who resents all the privilege around him; Ronan, the fierce soul who ranges from anger to despair; and Noah, the taciturn watcher of the four, who notices many things but says very little.
For as long as she can remember, Blue has been warned that she will cause her true love to die. She never thought this would be a problem. But now, as her life becomes caught up in the strange and sinister world of the Raven Boys, she's not so sure anymore
---
When I started this book, my expectations weren't high but neither low. I read the first two novels  of the series in Italian but then the publisher stopped the publication on  my country – WHY? – and Stiefvater was one of the first author that I approached in English. Anyway, I opened the book as one of my first experience with ya genre and I was like: well, it should be okay. I had no idea that I would become addicted to the genre.
The story opens in a very original way and the strange weirdo vibes keep up during the whole book. In fact, this book is strange. You enter thinking that a lot of psychic stuff if going to drown with its pages and ink. And you're mistaking, kind of.
Yes, there are a lot of medium and mystic details, magic and mystery that works as story's details. In fact, the main point of everything are the characters.
A little note about the occult. I know that Stiefvater knows this kind of thing – and a little I do too – but at the same time I didn't feel enough focus on this vital part of the novel, like: yes, I know things but at the same I don't. Maybe I was looking for too much details.
Since I never read a book like that – still have to find someone with such a particular style – at first  I didn't connect well with the characters, expect with Blue. I followed them and cheered for them, but I felt that piece was mission and that piece was the link between them and me.
What make this book really special was also how the romance was handled. Basically, yes, there was romance but it isn't a book that says: hey, look! I'm a *insert genre* here that in reality is a romance.
In the end, I liked Raven Boys, yet there's something that didn't make me fall in love with the series immediately. A part of me is quite sure that it's the fault of the first impact over ya and this kind of story.
---
How was your initial reaction to The Raven Cycle? Have you read the book? What do you think about it?