Hello, dear readers! I'm finally done with the project I must deliver tomorrow, so I'm writing this super late review. Just don't mind it. Pretend that I managed to stick perfectly to my schedule. WHAT A LIAR.
Starting from tomorrow I will try again to stick to mu schedule. With the upcoming project – I had to create a magazine – the time was absolutely absent.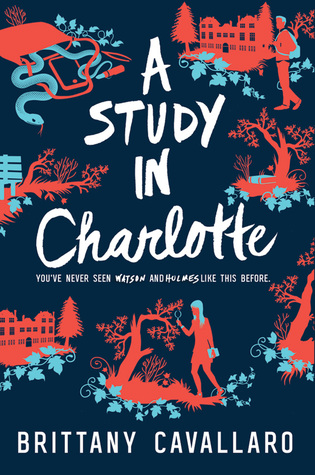 Title: A Study in Charlotte
Author: Brittany Cavallaro
Series: Charlotte Holmes #1
Publisher: Katherine Tegen Books
Pages: 321
Rating: ★★★★★
The last thing Jamie Watson wants is a rugby scholarship to Sherringford, a Connecticut prep school just an hour away from his estranged father. But that's not the only complication: Sherringford is also home to Charlotte Holmes, the famous detective's great-great-great-granddaughter, who has inherited not only Sherlock's genius but also his volatile temperament. From everything Jamie has heard about Charlotte, it seems safer to admire her from afar.
From the moment they meet, there's a tense energy between them, and they seem more destined to be rivals than anything else. But when a Sherringford student dies under suspicious circumstances, ripped straight from the most terrifying of the Sherlock Holmes stories, Jamie can no longer afford to keep his distance. Jamie and Charlotte are being framed for murder, and only Charlotte can clear their names. But danger is mounting and nowhere is safe—and the only people they can trust are each other.
I read this book during its release year and that means two years ago. It was summer, strangely peaceful for being a period of vacation that I was passing with my family. I was in Tuscany and I remember turning the pages while sitting in the back seats and my parents driving. Everything was peaceful. So, for me, for strange reasons, this book remained strongly associated with a period of calm, of summer, of free time and a story that kept me reading for days.
I think that the particular moment in which I read the books is important, since it surely helped my view and sensation while I was discovering the plot words by words. Anyway, even if it was a happy time, I also enjoyed the whole plot, the two characters. Continue reading →